Team Voom
We partner with a team of dedicated athletes across a wide range of sports. From snow sports to triathletes, we work with an amazing group of people who test our products to the limit!
In return for their feedback on our work we fuel their training & competition and support their inspiring endeavours. We very much hope you'll also feed back your VOOM experiences to info@voomnutrition.co.uk, or our social media.
Together we are more VOOM!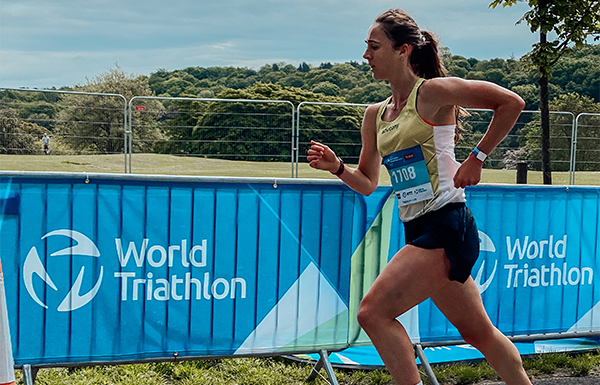 Katie Brown
Runner
Running since the age of 10, I can say now at the age of 28, there hasn't been a time I've been without running. I've worked my way through many distances, dabbling in one marathon, but in 2021 found my space in 5km/10km road running breaking both the 17-minute and 35-minute barriers respectively and soaring ahead of my previous PBs over these distances. Powered by VOOM for 2022, I plan to take running to the next level, aiming to tackle 3000m and 5000m on the track and secure some elite-level road entries along the way. My biggest training secret is cross training! When not found running around the roads, I will undoubtedly be building up the miles on my bike outdoors and on my turbo trainer – something I've discovered over the last year and fallen in love with!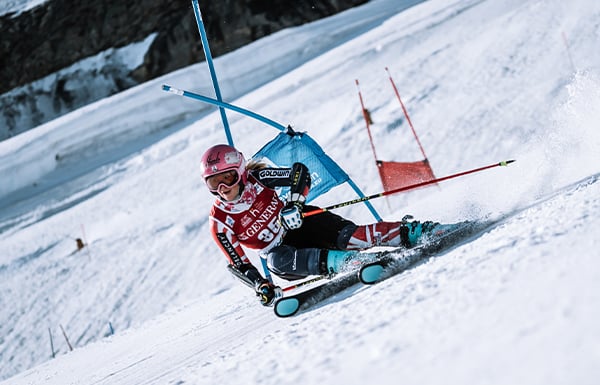 Darcie Mead
Team GB Skier
Darcie has been racing since the age of 11 where she was lucky enough to be selected for in the British children's team which then progressed to the British Alpine team as she got older. She competed as a child at the major international events in Andorra and Topolino. As an adult she has raced at numerous world junior championships. She made her debut to Europa cup in 2017. Darcie was the only British female to be selected and compete at EYOF (European Youth Olympic Festival) in 2013. She is the youngest ever competitor to win the Overall British title, 4x British champion, 5x British junior champion. Unfortunately she has been unlucky with injuries but she is going into this season the fittest and healthiest she has ever been! She is hoping to make her World Cup debut and hopefully qualify and be selected for the 2022 Olympics Games!
Abbie Manley
Road/Cyclocross Rider
My name is Abbie Manley and I am 19 years old. I'm currently a full-time athlete competing as an U23 in both Road and Cyclocross. I have recently represented GB at the 2020 European Champs and been selected for multiple World Cups, I also placed 3rd U23 and 5th Elite at the first National.  As a Junior I raced on the road for the first time and had the opportunity to compete at the Junior Nations Cup Gent-Wevelgem, Swiss Ever GP and the National Road Series as well as picking up many senior podiums. I aspire to race a UCI calendar at both road and CX disciplines through 2021/22, gaining both experience and success.
Liam Lloyd
Triathlete
Liam is an elite level triathlete from Llanelli, South Wales. Having worked hard year on year he has risen through the ranks representing the GB elite team at Junior, u23 and Senior level in various triathlon and duathlon events. Liam has regularly competed in European and World Cup level events and proudly represented Wales in the Commonwealth Games. In 2019 he earned a fantastic 4th place in the elite World Duathlon Champs in Pontevedra, Spain, as well as dominating races at home, winning four rounds of the Welsh Triathlon Super Series (and the title overall). In 2021 Liam will again look to dominate domestically as well as moving up the distances, focusing on some 70.3 racing and the fiercely contested Ironman Wales, Tenby!
Pete Brittleton
Mountaineer
Pete Brittleton started is journey sport climbing the hot rock of southern Spain and Portugal. Back in the UK, he was a competitor in many national fell races and he still holds some of those titles 30 years on. He is also an accomplished mountaineer who summited Everest in 2008 and has also climbed on Manaslu, Broad Peak, Cho You and the notorious K2. Pete is a true athlete and mountaineer who is passionate about the sustainable use of resources on expeditions.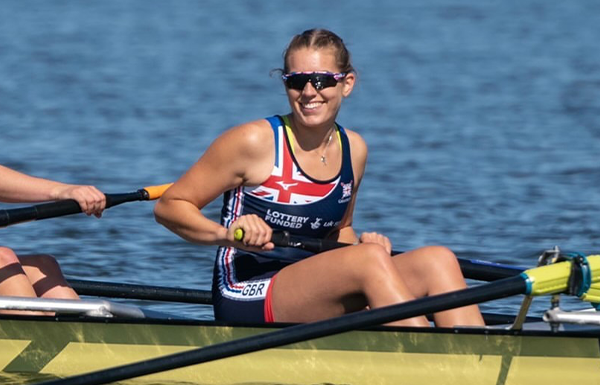 Isy Hawes
Rower
My name is Isy Hawes and I am 21 years old. I started rowing at 18 just before starting university and within 3 years I competed for GB at the U23 European Championships 2021, winning bronze in the women's coxless four. A few weeks earlier, I was part of the student women's eight which won the inaugural Island Challenge Cup at Henley Royal Regatta for Oxford Brookes University. I have just begun this season at Leander Club and I'm so excited to see what is in store for my first senior level season. Alongside rowing I have worked as a physiotherapy student in intensive care through COVID and entering my final year of placements. VOOM nutrition has been perfect to make sure I stay fuelled for the long days of placement and training!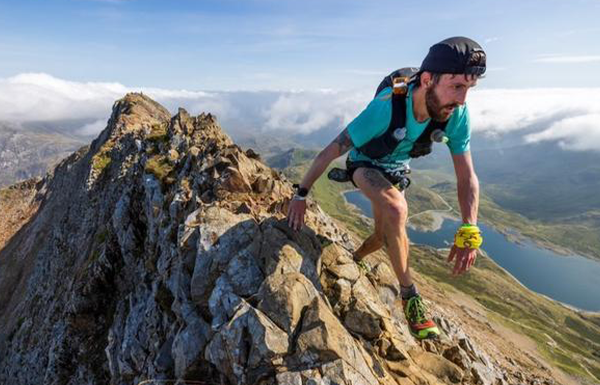 Simon Roberts
Mountain Runner
I'm a 33 year old mountain runner from Pontypridd in South Wales. I love running in the high places whether it being in the South Wales fells with my running club Mynyddwyr De Cymru or it being running mad distances doing ultra multi day events. You can usually catch me running crazy events such as Spine Race and Dragons Back Race, but I also have a blast at the Sky Runner races as I love running those ridge lines. 2021 has been a pretty special year for me, I have taken wins at Lakes Sky Ultra and Race Across Snowdonia, but the highlight has been taking gold at the famous Dragons Back Race, becoming the first Welshman to do so. I'm looking forward to future and taking on more exciting ultra challenges! Photo credit: No Limits Photography
Billy Major
Alpine Ski Racer
Billy has been ski racing since the age of 7 and has risen through the ranks, representing GB at junior level in the 2013 Youth Winter Olympics and now senior level, becoming two-time Overall British Champion on the way. In 2019 Billy competed at the World Championships in Sweden, and still at only 23 years old he is young to be at this level of the sport. As a member of the British Europa Cup squad, competing in slalom and giant slalom, his focus is on the Beijing 2022 winter Olympics and progressing to World Cup level. He aims to become the first British ski racer to win a World Cup race and an Olympic medal.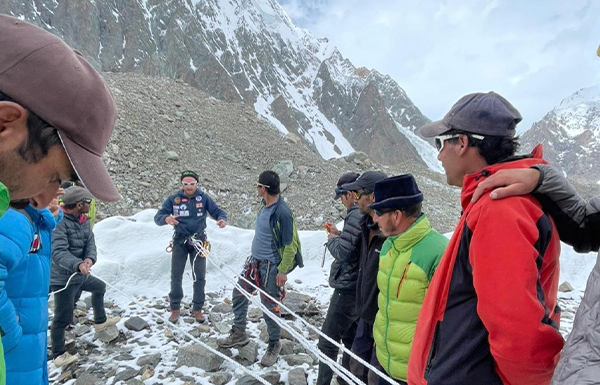 Paul Etheridge
Mountaineer
Paul Etheridge's introduction into mountaineering came from his Scouting days when he was taught climbing in the mountains of North Wales. From those beginnings, he gained mountaineering qualifications which eventually led to him to becoming a guide. Paul has led expeditions around the world. Although he feels most at home in the remote regions of Pakistan and Nepal, Paul has climbed all over the European Alps and in South America and as also climbed on the notorious K2 in Pakistan.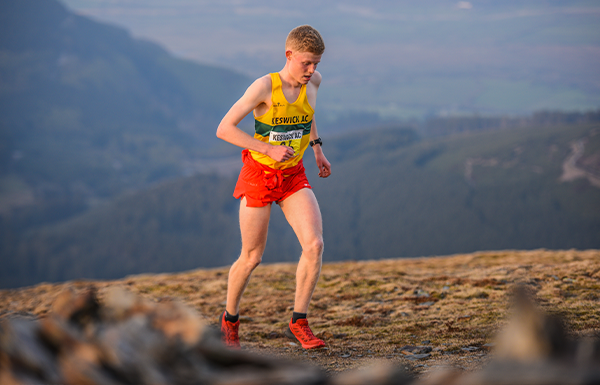 Harry Bolton
Fell Runner
I'm a 21 year old fell runner living near Keswick in the Lake District. After swapping football for running whilst at school, I quickly found myself running in the fells near to home. Following this I have competed in races across the UK, and in 2019 spent the summer competing in mountain and sky races across Europe. This trip inspired me to start spending longer days out running in the mountains. This winter I ran the George Fisher's Tea Round and set a new winter record and the third fastest overall time in a competitive field. In summer 2021 I will be graduating from Loughborough University and am hoping to spend a long summer racing and exploring across the European alps. Photo credit: Stephen Wilson www.granddayoutphotography.co.uk
Nicole Taylor
Distance Runner
I'm a 25-year-old, long distance runner from Tonbridge Athletics Club. I've been running competitively for 12 years and have very steadily moved up the ranks, proving that consistency is key! As a senior I have competed for England over cross country on three occasions, I am the current England 10,000m track champion, and the England 5,000m bronze medallist on track and road. My goals are to represent Great Britain and to represent England on the road, track and cross country.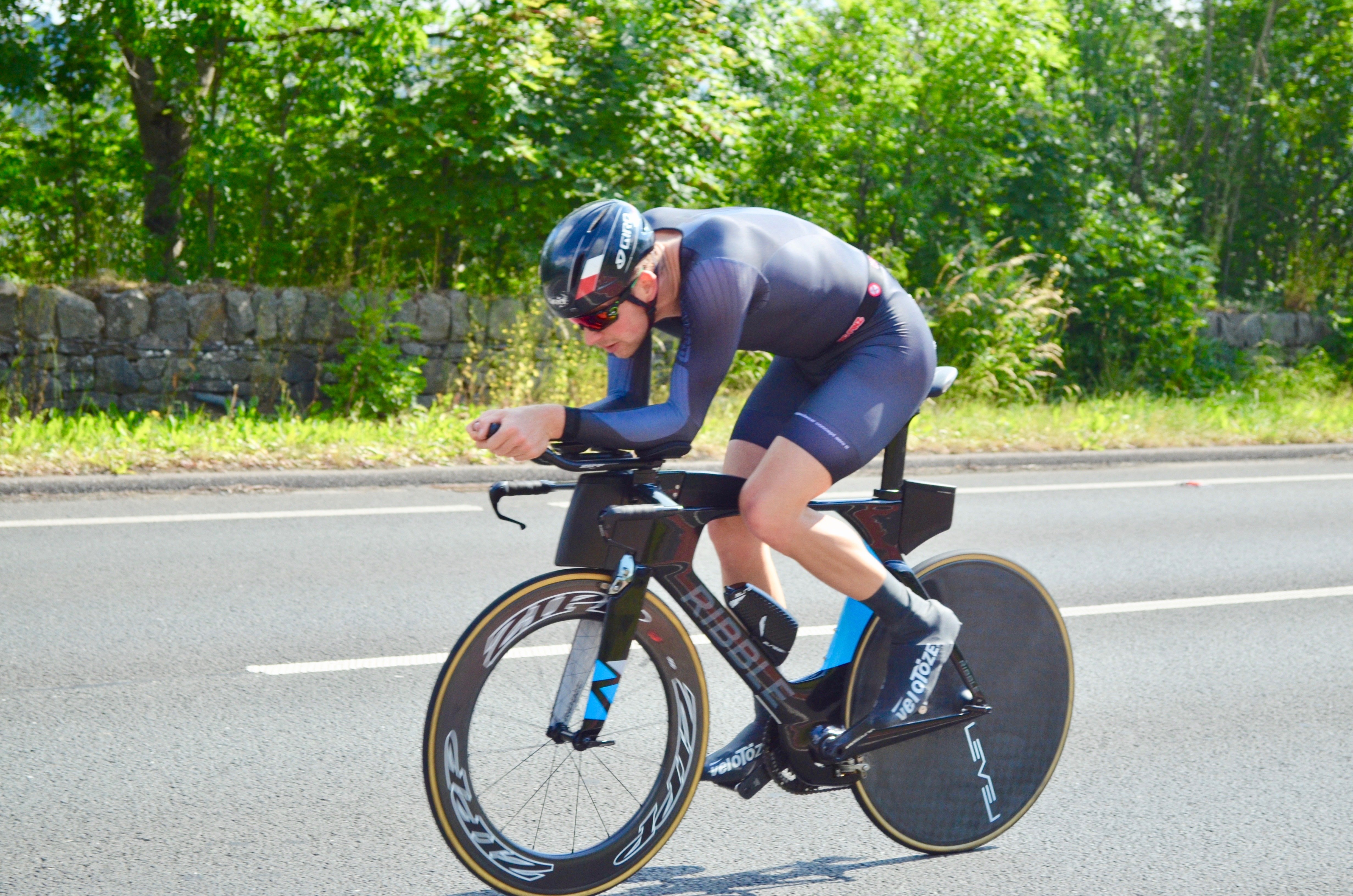 Beau Smith
Triathlete
Beau is an experienced triathlete who has represented GB at elite u23 and Age Group level, winning the 2017 AG ITU Standard Distance World Champs. Whilst studying at the University of Leeds he was part of the BTF Leeds Performance Centre training alongside some of the best athletes in the world. With a background of elite sprint/Olympic distance racing, Beau's also competed in various individual discipline events including cycling TTs, road races, crits and run events on track, road and cross country. Beau also enjoys challenging course triathlons and has completed the infamous 'Alpe d'Huez Tri, and in 2019 won the Helvellyn Triathlon and was 2nd in the Snowdonia 'Snowman' Tri. Watch out for some longer challenges on the horizon.
Russell Bentley
Track and Mountain Runner
Born in London, bred on track and road running. Now living in Snowdonia, running for Wales in the mountains and trails. A strong believer in training over different terrains as much as possible to keep the body strong and fast. I'm a UK Athletics qualified coach with a track squad of 50 athletes, but also big into the exciting new challenges of the Fastest Known Time scene. Have the current FKT for the solo Paddy Buckley Round (a 100km and 47 summit route around Snowdonia). Came 2nd in the 236 mile Dragon's Back Race, known as the Toughest Mountain Race In The World. Also enjoy road marathons, two-time winner of Snowdonia Marathon with a PB of 2hrs20 (sans Super Shoes), and the odd Spartan Race. Favourite book: War & Peace. Favourite movie: UP! Adventure is out there! Photo credit: sportspicturescymru
Mani Cooper
Nordic Combined Skier
My name is Mani Cooper and I am a GB Nordic Combined (ski jumping and cross country skiing) athlete. I started ski jumping in 2013 but I soon realised I also needed an endurance element in my sport to push my limits. This is how Nordic Combined was introduced to me. In 2020 I represented my country at the Youth Olympic Games which was an amazing experience. Since then, I have been competing at international level in Alpen Cup (European), Continental Cup and this season I hope to start in my first World Cup. The Junior World Championships and EYOF are also coming up this season which are big goals for me. I am currently working hard and focussing on my weaknesses to make them my strengths and with hard work and dedication, I will do my best to represent my country and can't wait to see what the future will bring.
Ian Marsden
Handcycler & Paracanoer
I started out as an able body athlete representing Team GB at Powerlifting and won my first title in 1990 in the 67.5kg weight class. I went on the lift for Team GB and became Teenage / Junior World powerlifting champion in 1992, breaking 3 World records in the process. After a sporting accident following the World championships, I suffered a spinal cord injury. After a long spell in hospital, I thought that was the end to my sporting career until I discovered Handcycling and Paracanoeing. I raced on the European Handcycling Circuit and was selected to represent Great Britain at several European and World championships. I have also won the disabled male sports personality for the year 2016/17 for my achievements in Rio Paralympics. I was also awarded a special award by British canoeing for my outstanding achievements and promotion of the sport. In October 2016 I was recognized with a civic reception in Stoke on Trent.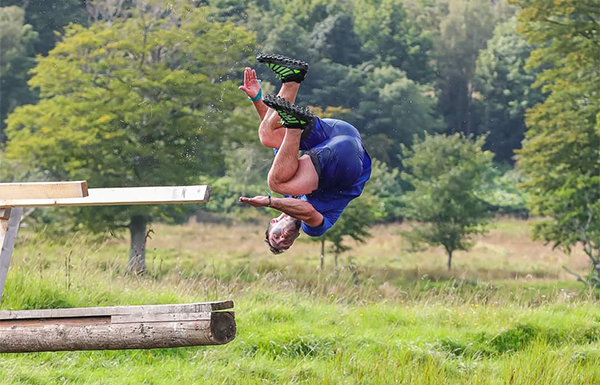 Steven Fell
OBSTACLE COURSE RACER
Injury defined my first 5 years before operations, as soon as possible I booked a tough mudder, this West Cumbrian dairy farmer was hooked and one year on I went on ITV UK ninja warrior. My adventures continued and I'm now probably one of the most traveled ninjas in the UK with 3 wins and few runners up in UK one last man standing Holland, 4th in Germany some wins in Oz and 2nd 3rds. The Australians named me the northern ninja. Living in Kendal working in the area doing one joinery task after the other, making as many trips out as I can to create more adventures!
Brian Sharp
Ultra and Mountain Runner
I started running in 2015 with short trail/hill runs with friends then the Scottish Munro's. With our cameras we'd find mountains to play on, finding the best and most gnarly ridges to run. My first Ultra was in 2016; I'd been running less than a year and it pretty much broke me! I knew I could do better and after the Glen Coe Skyline in 2017 I really wanted to be competitive in long mountain races. I trained hard and won my first Ultra in 2019. I've finished in the top 3 at the Scottish Islands Peak race & had success in many races across the UK - including the Ambleside 60K race where I finished 2nd. Outside racing I love running - I love the movement of it and don't mind whether its road, trail, or anywhere! In 2020 I'd planned to complete the UK Golden Trail Series as an Elite, but obviously that's been cancelled.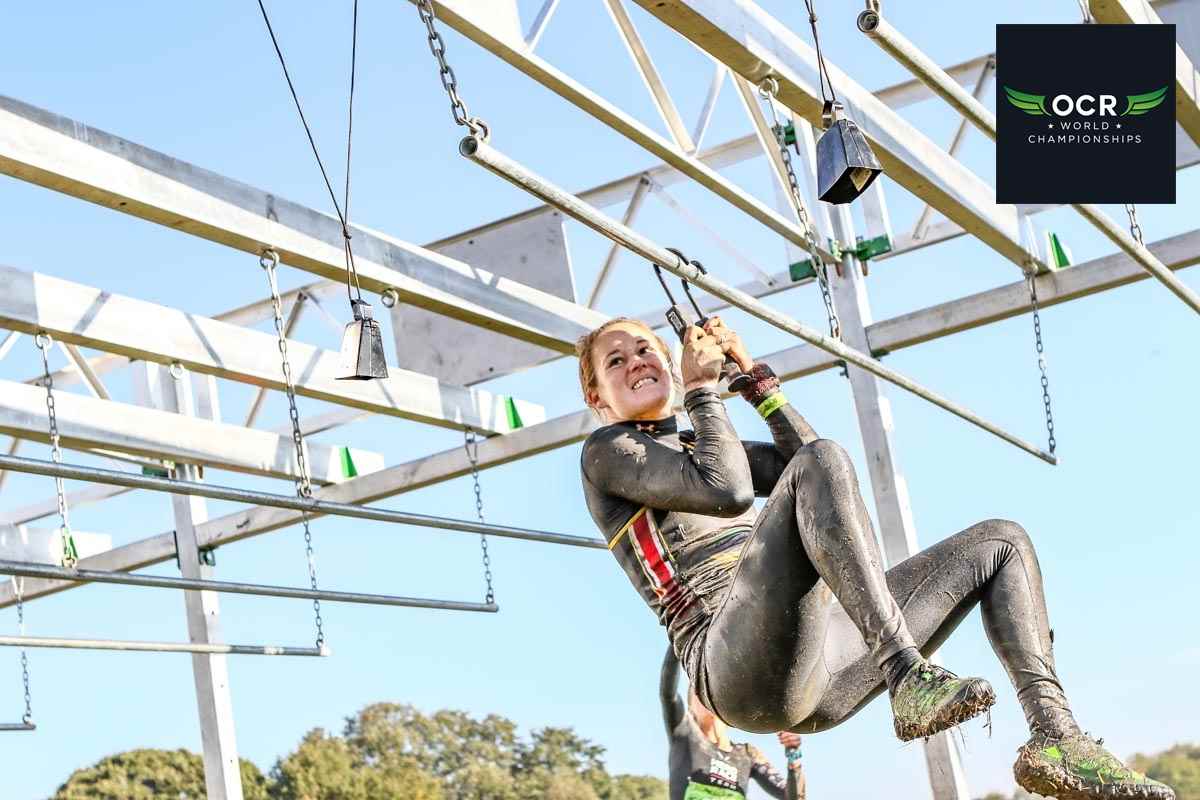 Becky Neal
Obstacle Course Racer
Becky is an International Obstacle Course Racer (OCR), having competed in the Pro/Elite division at the World and European Champs. With a history in competitive sports such cross country, gymnastics and cheerleading among other hobbies like rock climbing, ninja, trail running, skiing and watersports; the progression to OCR was smooth and she's earned over 25 podium places since the transition in 2016. Becky's always been interested in sport and holds a PhD in Exercise Physiology and publishes research on the effect of extreme environments on the body while lecturing in Sport and Exercise Science on the South Coast. In 2020 Becky has been selected to represented the UK at internationally and hopes to continue the adventures, whatever obstacle gets in the way!
Ruth Bennett
Runner
Mum of 2, Secondary School teacher and keen runner! I've been running all my adult life really, 26.2 is my favourite distance - my first marathon was aged 24 (the London Marathon) and was 2 hours slower than where I'm at now! I love running everywhere - the road has been most successful for me so far, but finding a new love for the trails too of late.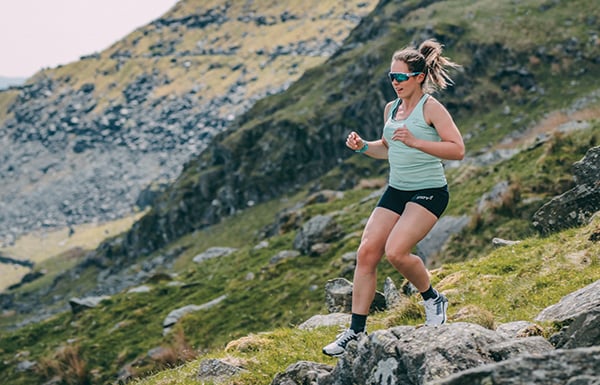 Christie Byrne
Duathlete
I'm a 28 year old physio and duathlete from the Lake District. My first passion was for Crossfit, I then switched to running and cycling when lockdown hit. Having enjoyed exploring new places and building my fitness I took on my first duathlon in April 2021. I surprised myself in qualifying for the GB AG team for the 2022 World Champs! I'm aiming to continue progression with my cycling and running plus working on my swimming to take on a full triathlon, perhaps in 2022!
Toby Barnes
Cyclocross Rider
I'm a 19-year-old cyclist competing at national and international level whilst also studying at Loughborough University. My main focus is cyclocross where I recently won the National Trophy Series in the U23 category, also finishing 3rd elite. As a junior I represented Great Britain at World Cup events and the European Champs, gaining great experience racing with the World's best. I also compete on the road during the spring and summer, winning the West Midlands road race league in 2019, and getting a number of wins and podium finishes throughout the season.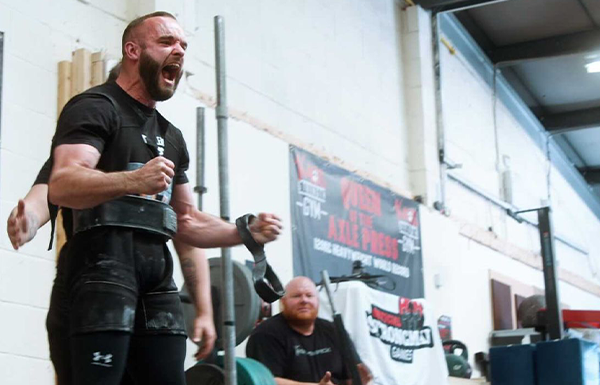 Joe Daglish
U80kg Strongman
Joe is a lightweight strongman from the North West of England. Most recently Joe finished in 2nd place at Britain's Strongest Man Under 80kg, losing out only to fellow Voom Nutrition athlete and identical twin Tim. Joe is currently the under 80kg strongman deadlift world record holder, with a huge lift of 335kg. Joe is now training for The 'Official Strongman Games World's Strongest Man Under 80kg' that takes place in November 2021 at Daytona Beach, Florida. This competition will give Joe the chance to compete against the best lightweight strongmen in the world. The competition events includes a 5 bar deadlift ladder, pressing heavy logs, a car carry and an atlas stone run.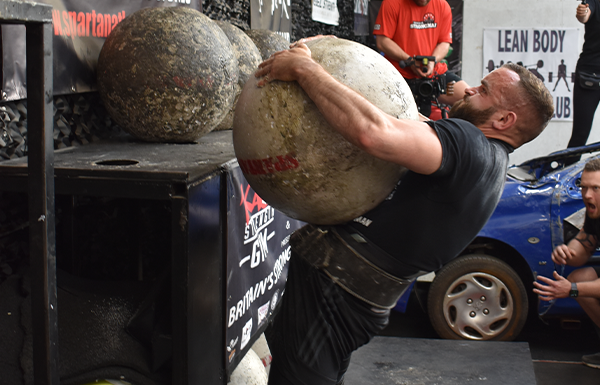 Tim Daglish
U80kg Strongman
Tim is a 27 year old, lightweight strongman. Tim has recently been crowned Britain's Strongest Man Under 80kg after winning the 8 event competition against Britain's finest lightweight strongmen. Tim also holds the under 80kg atlas stone world record after loading a 165kg atlas stone (over double body weight) to 48" in competition. Tim is currently preparing for The 'Official Strongman Games World's Strongest Man Under 80kg' this November in Daytona Beach, Florida, where he will be competing against the best lightweight strongmen in the world. This competition will see Tim pressing a heavy log overhead, carrying a car 15m and pulling heavy deadlifts as well as other extreme events.
Callum Davidson
Runner (Mountain/Road)
I'm a 22 year old mountain runner and have represented Lancashire and England. Aged 8 I watched my dad race around the UK and have been obsessed with running ever since. In 2013 I first represented England and have done so 5 more times, most recently at the 2018 World Cup in Slovenia, placing 25th (6th U23). I've also had success over XC, winning the U20 Lancashire champs in 2017. I've been fortunate enough to be sponsored by On Running aiding my journey, bringing down my road times to 14:58, 31:03, 69:13 (5km, 10km, half) plus a 2:40 marathon with a broken foot for 12 miles! In 2021, most importantly, I want to continue enjoying my running.
Amelia Hanley
Triathlete
I only started racing in triathlon events in 2020, however completely caught the bug and have managed to podium at every race that I have entered. With a background in elite junior tennis - playing and coaching, sport has always been a main factor of my life. Also coming from a cycling family, I think I've got good genes when it comes to being on my bike and have started to dabble within the TT world which I'm hoping to continue next year. This year I did my first half distance tri at The Lakesman which was incredible and I managed to come in as 3rd female. Super looking forward to finishing the season off with the Sandman Triathlon in Anglesey…. And then onto the full distance next year with IMUK booked with my eyes on a potential Kona slot for 2022!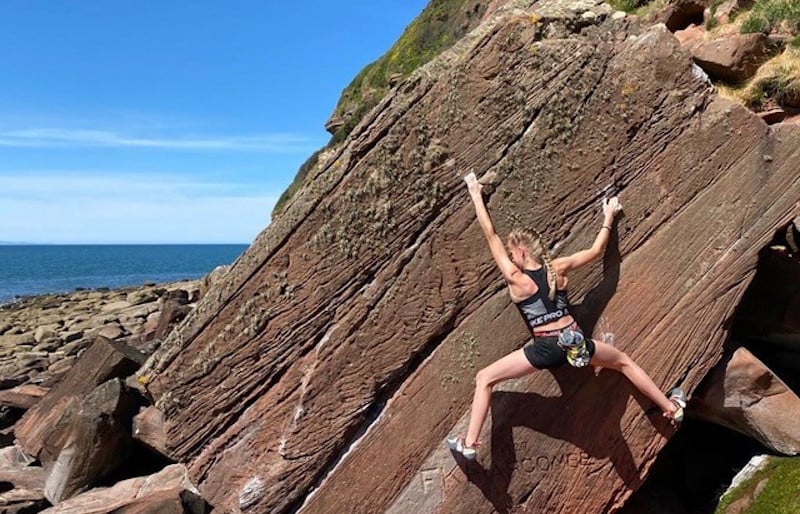 Lily Kinnersley
Climber
Lily has been a member of the GB Climbing Development Team for the past two years.  She has been climbing since the age of 5 when she discovered her love and natural ability for climbing, and competing since the age of 7, winning various national titles along the way.  In more recent years Lily has also competed internationally with a highlight being 1st place in boulder, lead and combined climbing at the Flatlander cup in Holland. Her 2019 titles included British Lead Champion, Scottish Boulder champion & Welsh Lead champion. The year was topped off with 1st place in Lead & Combined for the GB trials.  Lily's future target is to represent GB at the Olympics and is working hard every day to achieve this dream.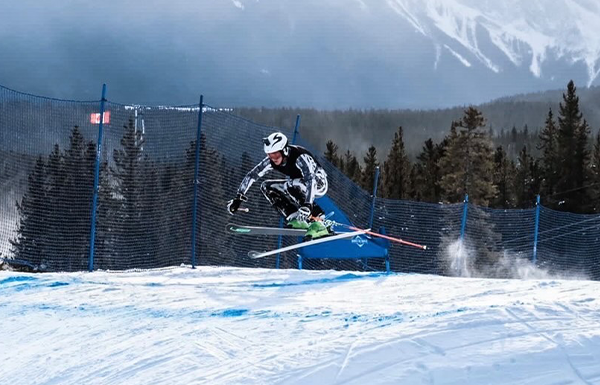 Tommy Dade
Skicross Racer
I'm a Junior Skicross athlete training and racing with the GB skicross team. I've been skiing since the age of 2 and have raced Alpine for several years, I then switched to skicross full time at the age of 15. In 2019 I won the U16 British skicross champs and in the last race of my 2020 season I came 6th in the Swiss national champs. My goal for this coming year is to represent GB at the World Junior Championships and am looking forward to working with Voom to help me get there!
Jamie Whitcher
Cyclist
I'm a 16 year old cyclist from Bournemouth racing for Cycleworks. I compete in National and International Track, Road and TTs whilst also studying at Leaf Studio 6th form. Although the 2020 season has been a non-starter due to Covid, I've still been training hard and had a few good TT results with 7th in the Junior National 10 and 3rd in the Youth National 10. I was a GB Endurance Apprentice for 2019/20, hopefully my dedication and hard work pays off to make selection for the GB Junior team in 2021. For the 2021 season I will be a first year Junior and I'm looking forward to the longer and more challenging races whilst also being competitive in the results. I can't wait to get back over to Belgium!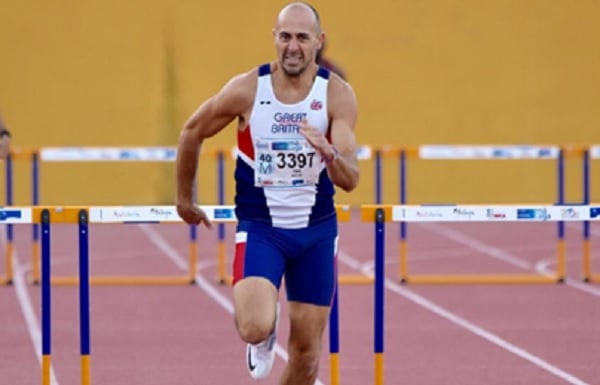 Darren Towart
Hurdler
I'm Darren Towart a former international rugby player turned sprinter. Back in the day my body weight was 120kg but I retired in 2008 and subsequently took up athletics in 2014. I lost 40kg training myself back to fitness with the help of my local club Tynedale AC in Hexham. I've loved getting into a new sport which allows me to travel the world and race for GB. I'm currently ranked number one for the M40 400m hurdles and current M40 Indoor world record holder for 400m hurdles. In 2019 I competed at the World Masters Championships in Poland and came back with a Bronze Medal in the 4x200 relay. I then built towards the European Masters Championships in Venice in September where I won a bronze medal in the 400m hurdles.
Joe Dixon
Runner
I started running with my friends just to keep healthy as I was overweight, which lead me to parkrun. At first I scraped under 30mins (29:52) but carrying on for another year my times tumbled as I chased a sub 20min time and eventually I managed 19:26. In my second year of running (2018), times continued to improve and I tried cross country. Through persistence I improved my parkrun, 1500, 800 and XC; I made my first team (Northumberland Schools) and had a sharp learning curve at the 2019 English Schools champs finishing 307th. Later in the year I went on to finish 25th at British Cross challenge (Liverpool), 3rd at NE XC and run a 16:22 parkrun.
Rachael Vatter
Triathlete / Multisport
I'm 22 and compete internationally for the GB Age Group triathlon team whilst also studying mechanical engineering at Loughborough University. I did my first tri aged 8 and have been hooked on multisport ever since. In 2015 I took part in my first international event, travelling to Geneva for the Europeans and then later that year to Chicago for the Worlds. I have raced internationally for 6 years competing 16 times for GBR in various multisport events. As well as triathlons I also compete in duathlon and aquathlon with my best result coming in 2018 when I won the 20-24AG aquathlon worlds in Denmark.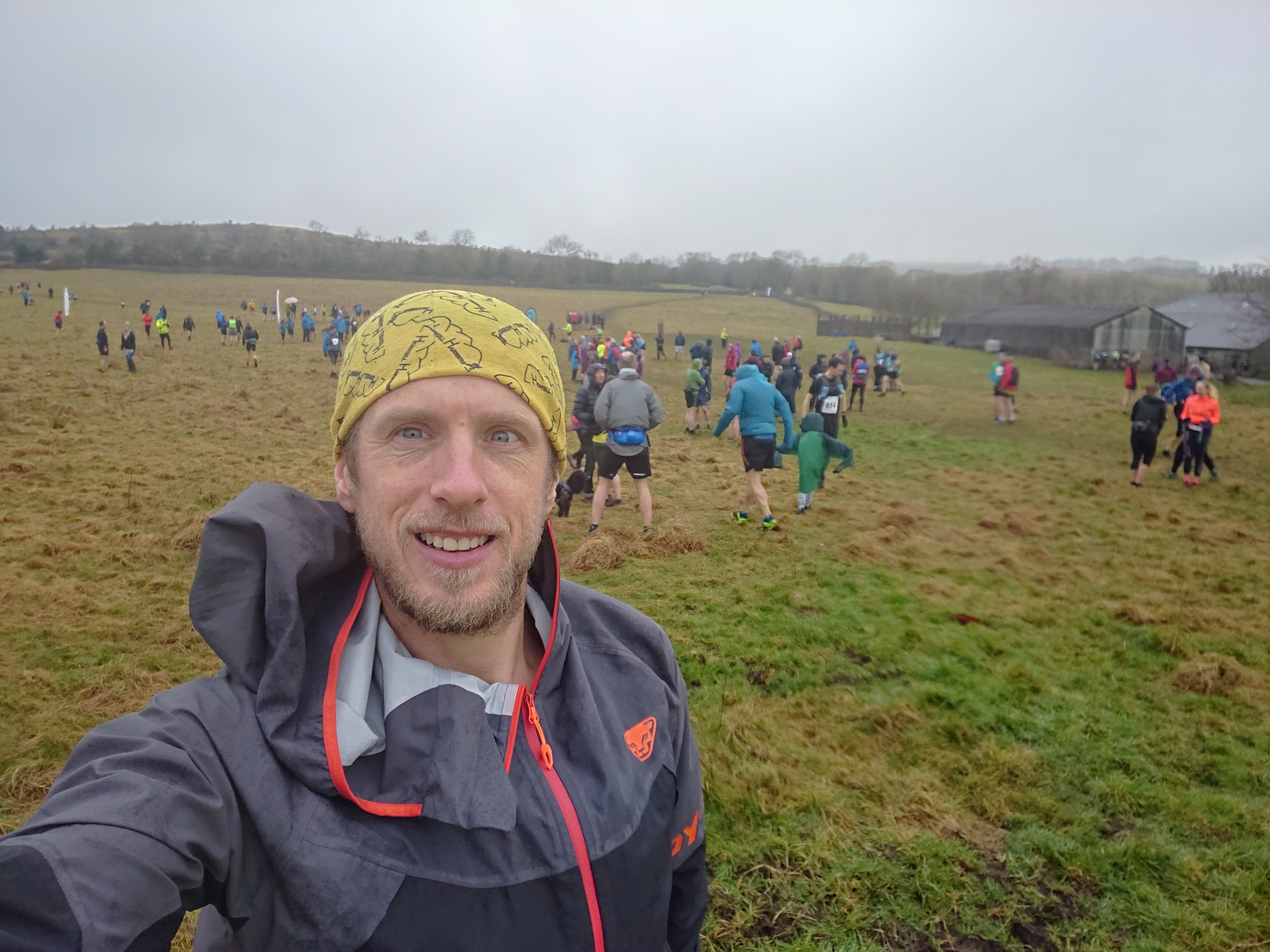 Ross Jenkin
Fell Runner
Dabbling in various disciplines within running over the last few years, it became apparent that although my talents are better in road running, my heart remained in the mountains. I love to be up there for as long as possible, (safely of course!) so Mountain Marathons and Ultras are the thing for me. I have steadily moved up the rankings with every adventure and have even won a race this year! In 2021, I will again embark on a massive adventure to complete all 4 National Mountain Challenges non-stop, only resting on the journey between each area.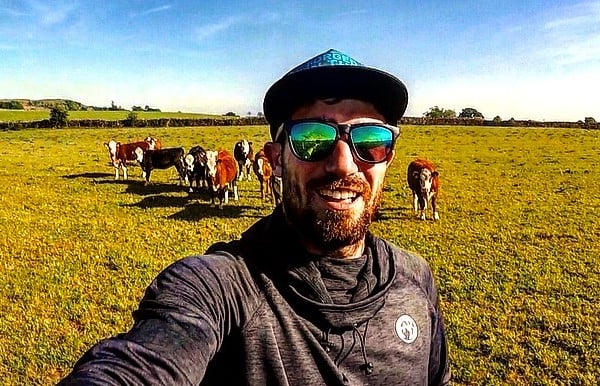 Rory Addison
Fell Runner
I am a fell runner from the wonderful Lake District! I started running aged four following in my dad's footsteps (despite wearing wellies in my first race) and really enjoyed running on the hills. Growing up I had success in Fell running becoming English Junior champion and English Junior uphill champ. I also ran for my county at cross country and on the track. I traveled all over the country with my brothers racing before having a break to do some travelling around the world (lots of skiing and sunny adventures). I've now got back to running on the fells and back to racing too, with some long-distance challenges in my sight such as a Bob Graham round!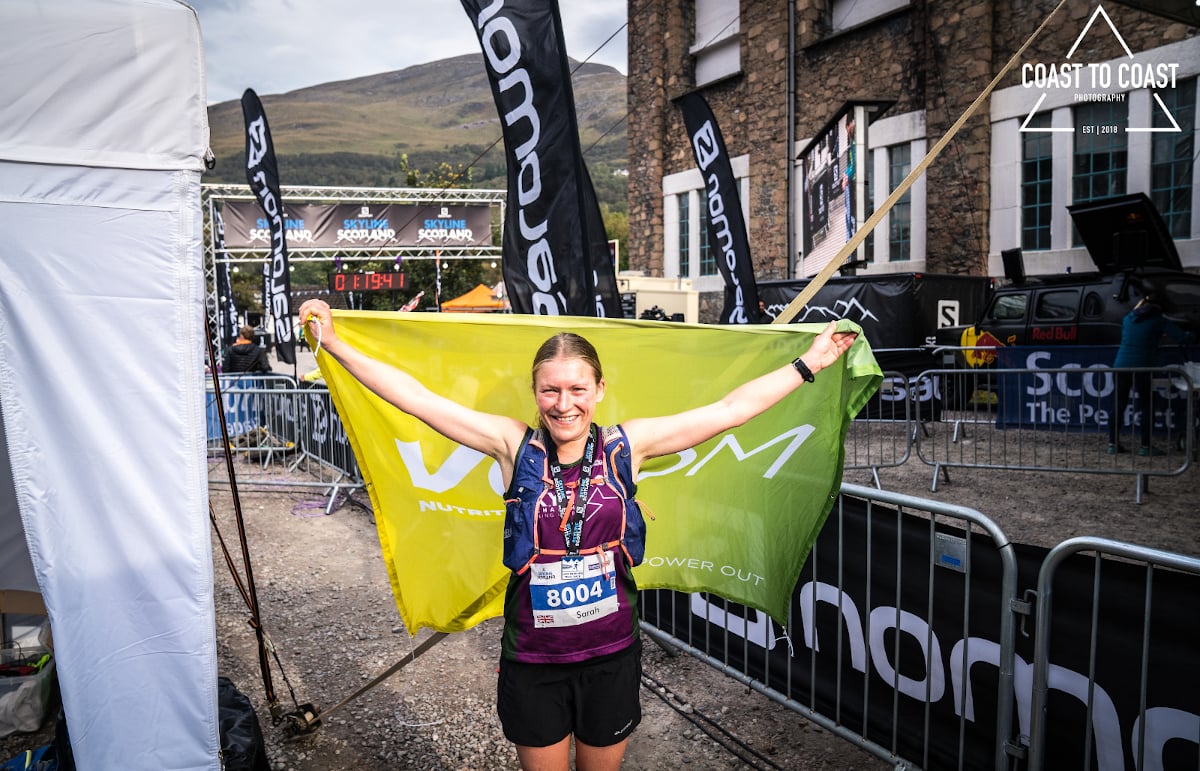 Sarah Attwood
Triathlete / Runner
I'm 37 years old and am a GP on the Isle of Skye after 12 years as a doctor in York. I started running roughly 10 years ago and then triathlon in 2017. I'm happiest outdoors exploring the beautiful and breath-taking scenery the U.K (especially Skye) has to offer. My goals for this year are to improve my marathon and half marathon PBs, compete at ETU age group sprint triathlon champs, qualify for the 2022 ITU age group tri worlds, a charity event with friends riding the length of Ireland, and going sub 5hours 30 at the Outlaw X middle distance tri.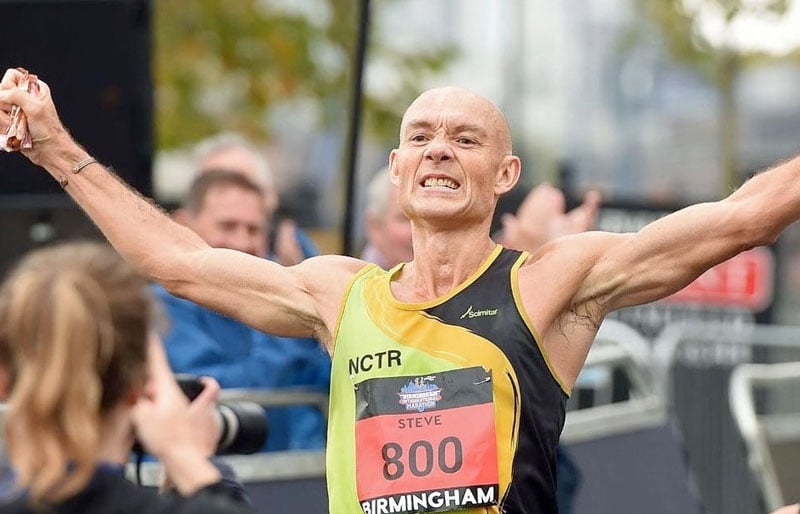 Steve Edwards
Marathon Runner
Known by many in the UK running community as 'The Godfather of Marathon Running', Steve has become one of the most successful multi marathon runners in the world today. Having so far run 867 official marathon races in an average finish time of 3hrs 18min at the rate of one every 12 days for the last 31 years Steve has set many records including running 500, 600, 700 and 800 marathons in the fastest average finish time. He is rapidly closing in on the 900 record and if all goes to plan his ultimate ambition is to become the first person on the planet to run 1000 official marathons averaging under 3hrs 30min.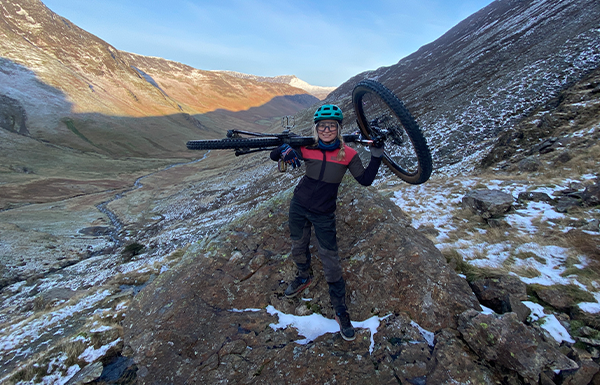 Kate O'Callaghan
DOWNHILL MOUNTAIN BIKER
I'm Kate O'Callaghan, a mountain biker / everyday adventurer from the Lake District. I can mostly be found out in the hills on my bike or on foot. I also love to Surf, paddle board and the occasional wild swim or ice dip. I'm always up for an adventure and try and add a little bit of it into everyday. I love encouraging people into the outdoors, I've dedicated my career to experiential learning in the outdoors, I'm also part of Team HQ for the Wonderful Wild Women, a community that encourages and supports people to enjoy outdoor adventures. I love the power of the outdoors, my favourite part of mountain biking is a good dawn raid, hiking up a big hill with my bike on my back and sitting and watching the sunrise, that's when I feel most alive.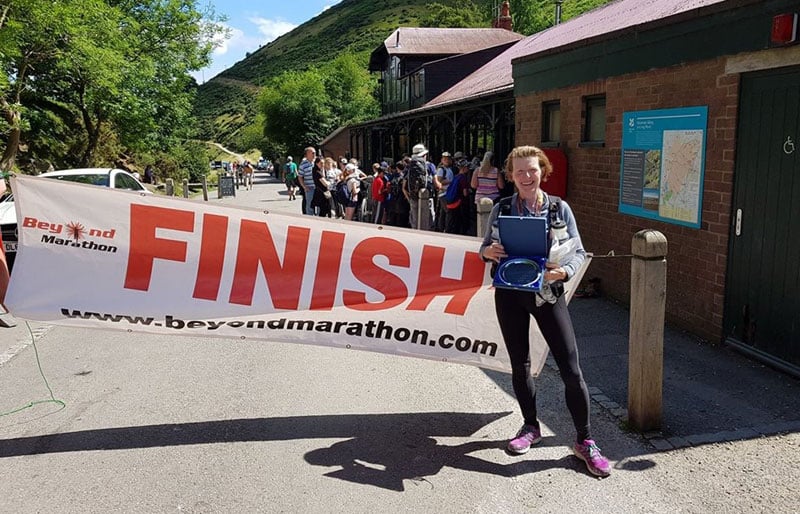 Angela White
'The Running Granny'
I'm Angela White, aka 'the running granny'. Seven years ago, at the age of 53 years, I discovered the ultrarunning world when I joined a friend training and completing a Lake District classic mountain challenge, and I was hooked. Although not fast, I discovered I can keep going and I've since completed the 'Tour de Helvellyn' winter ultra and the iconic 50mile Lakes in a Day. I did the 190 mile 'Northern Traverse' along Wainwright's coast to coast route in 2016 and again in 2018. Having been struggling with GI distress I met VOOM and after discussion I tried their products. Using VOOM Hydrate drink helped me complete, without symptoms, and win my first 100 miler, the Apocalypse. In September 2019 I attempted a John O'Groats to Land's End run, completing in 18days 10hours and becoming the oldest woman to run JOGLE!
David Riley
Trail and Ultra Runner
I'm a 44-year-old adventurer, ultra trail runner, coach and race director. I started running seriously in 2011, competing in 12 & 24hr events but I unfortunately had a dark period of my life suffering from depression. With a lot of help and support my love of running returned and took me into the crazy world of ultra running; my love of trails grew and grew. Having various 100 milers under my belt, including the Spine Race where I finished 6th, my attention turned to the higher mountains in Europe from the Mont Blanc Marathon, the CCC, to the Lavaredo in the majestic Dolomites! Most recently I got the FKT on the Yorkshire Three Peaks Double & Triples. FKT's are my new favourite, so watch this space!!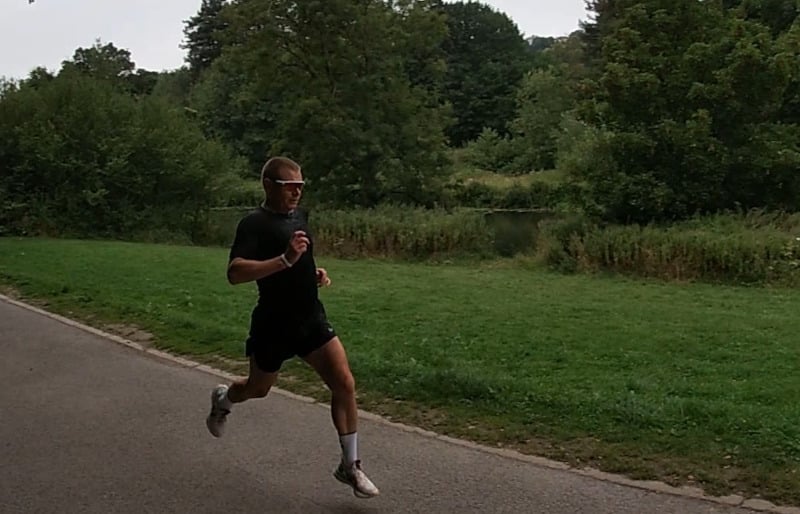 Chris Roxburgh
Powerman Duathlete
Chris is an elite Powerman Duathlete based in Wiltshire. Originally from Pontypridd, Wales, Chris played hockey from 8 years old rising threw the levels of County, Regional and Welsh International. At 21 Chris changed path to road cycling racing for Team Tor 2000. His career also began to take shape in the ambulance service and he's now a full time Paramedic Practitioner. In 2011 Chris was introduced to Duathlon and then found his niche in Powerman (long distance) eventually competing in the elite 2016 Euros. Having a family makes training a balancing act but Chris recently returned to Powerman with high aims after 2 years focusing on marathon running. He finished 8th elite in his first race back (Powerman Mallorca) and now aims to get faster.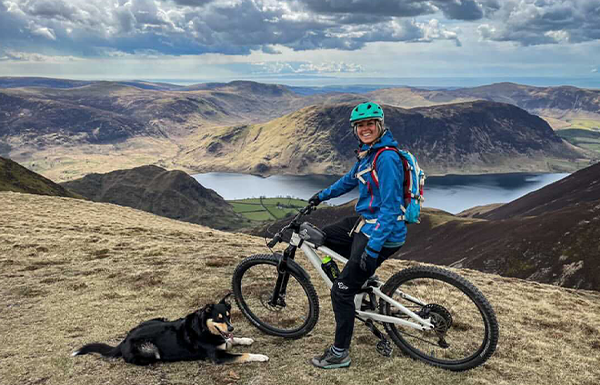 Katie Edwards
Mountain Biker
Katie lives in the Lake District and loves being in the outdoors. She's a mountain biker, but tries to have daily adventures and likes to mix it up a bit with fell running, wild swimming, paddle boarding, hiking, surfing and snowboarding (when she can). Whether its solo rides with her dog by her side or adventures with her boyfriend and friends, being outdoors is always time well spent and a recipe for a big smile. Katie is very lucky to have such amazing scenery right on her doorstep, making those adventures even more epic. She has incorporated her love for the outdoors into her work as an illustrator, creating lasting memories from those adventures: www.ktedwards.co.uk
Alice Ridley
Triathlete
Alice is a 22 year old beginner triathlete with huge potential. Sport has always played a large role in her life, with her parents, who are enthusiastic triathletes and fell runners, as her greatest inspiration. Whilst studying at the University of Leeds she trained and competed in the British Universities and Colleges Sport rowing and hockey programmes. After graduating, she discovered her love for triathlons, following in her parents footsteps. Her first challenge was the Hellvelyn Tri in 20XX, where she came away with first place in her age category. This spurred her on to train harder in her spare time away from working as a school hockey and netball coach. Alice has a few races lined up for 2021, with her sights set high on The Roc England. She is excited to see what the future holds for her as a triathlete.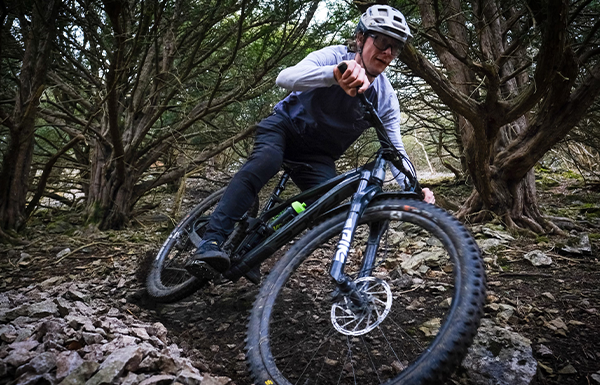 Danny O'Callaghan
DOWNHILL MOUNTAIN BIKER
Danny O'Callaghan is an engineer and mountain biker living in the Lake District. Being based in the Lake District means he's always in the mountains, be it on his mountain bike or walking with his dog Louie. Growing up in a national park he was pretty lucky and the outdoors has always been part of my life, he didn't truly start to appreciate it until my early twenties. That is when he started looking for adventures at home or abroad. To live and work in the Lake District is such a blessing and being able to ride from the front door has huge advantages, also being able to take his bike to work and ride from there is a massive plus too. Both make everyday adventures possible which makes the work / life balance easier and he tries to make a point of getting outside most days, even if just for a short time.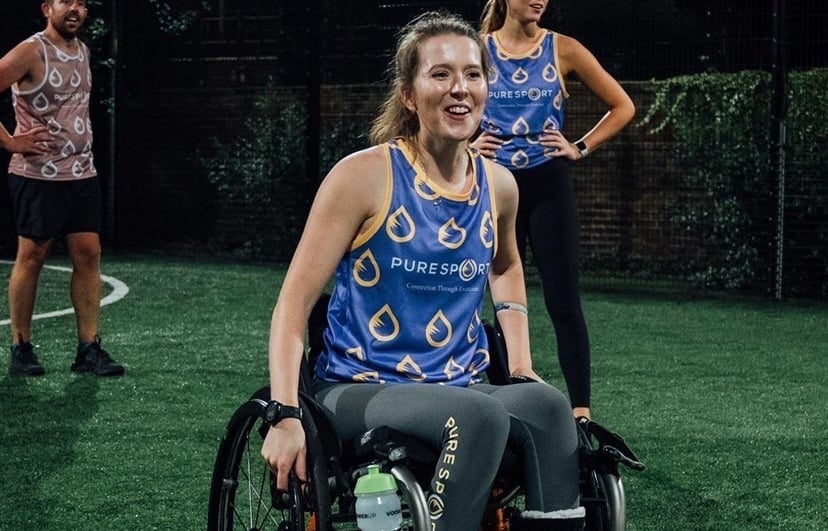 Frankie Butler
Trail and Road Athlete
I am a 23 year old Trail and Road Athlete, training and competing on wheels. I'm also an ex-international field hockey player: I represented both England and Scotland at various age groups, until an on-pitch injury in 2019 ended my career. Unfortunately, that injury led to developing a very rare chronic pain condition-Complex Regional Pain Syndrome (CRPS). This condition causes a maladaptive nervous system response to normal stimuli, so everything elicits pain, even something as innocuous as air, sadly, pain is a constant 24/7 experience. Adapting to life with this condition has led to the most difficult and challenging time of my life. Exercise and the great outdoors has always been there for me throughout my life and being on wheels hasn't changed that. During the first lockdown I got to grips with my wheelchair, at first I couldn't even wheel 100m. So, I went out every single day, rain or shine and trained hard, doing hill sprints, wheeling on MTB trails and on roads. I set myself the goal of completing a half marathon, which I am proud to say I did! This year I am training to complete a marathon- it's going to be a challenge, but I am determined to complete it, blood, sweat, blisters and tears will get me to that finish line. Alongside these challenges, I hope to progress with my recovery as the months go by and maybe, eventually in a few years time I might be one of the lucky ones to go into remission, allowing me to walk. However, in the meantime, I want to make the most of my life and get outdoors and enjoy each day in the wheelchair- wherever it may take me! Follow me on my road to recovery: @_frankie_butler